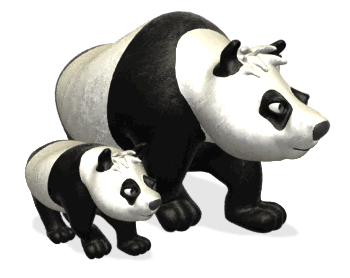 WELCOME
TO
PANDA CAFE',
WHERE WE SHOW OUR
PANDA PRIDE!
Cafeteria
All students may eat breakfast and/or lunch in the cafeteria. Meals will be charged each day and a bill sent home at the end of each month. The bill will mail from the school board office with payment to be returned there, too. Prices are as follows:
Breakfast-$1.20/day- Reduced breakfast-$.30/day
Lunch- $1.45/day - Reduced Lunch- $.40/day
Extra milk-$.25/day
Adult meals-$4.00 please bring correct change
Menus are provided to students each month by request or on the school's website. If you may qualify for free/reduced meals, please fill out an application for this service. You must fill out a new application for this service each year. Should you have any questions regarding Page-Jackson's meal service, please contact Mrs. Best, Cafeteria Manager, at 725-9020.
You are invited to eat lunch or breakfast with your child only: 1) once a week and 2) only after the first six weeks of school, as the students are still adjusting to the rules and routines. Please call ahead at 725-9020. Fast food is not allowed in the cafeteria or at school. Please pack a healthy and nutritious lunch for your child. Do not send cans or bottles of soda or lots of candy.
School meals are changing!
This fall, students will see differences in the cafeteria- healthier and more nutritious food in their schools! Thanks to the Healthy, Hunger Free Kids Act, major improvements are being made across the country to transform school food and to promote better nutrition and reduce obesity.
Kids spend a large portion of their day at school, and may eat half of the day's calories there. School meals should have food that helps children learn and grow. The new meals are based on recommendations made by the Institute of Medicine and designed to give children more of the nutrients they do need without giving them empty calories they don't need.
Healthier options
School meals will have:
· More whole grain-rich foods
· More fruit
· More vegetables
· Less sodium and trans-fat
· Fat free and low fat milk
· More water
Many familiar food items will still be available. For example, pizza is a popular school lunch entrée. Schools may still serve pizza, but your child's slice may come with a whole grain crust and reduced fat cheese.
Old Menu New Menu
Cheese pizza Whole wheat cheese pizza
Canned pineapple Baked sweet potato fries
Tater tots Grape tomatoes, raw
With ketchup Applesauce
Low fat (1%) chocolate milk Low fat (1%) milk
Low fat Ranch dip
HealthierUS Schools are Leading the Way!
Many school districts have already been making healthy changes in the cafeteria, and their experiences are helping to guide change across the country. Almost 4000 schools are already recognized as being far ahead of the curve- they have received a HealthierUS School Challenge (HUSSC) award. These schools have met high standards in serving healthy foods, offering nutrition education, and promoting physical activity during the school day. You can find a list of HUSSC schools here: http://www.healthyaccesslocator.com/
HUSSC schools (and others) have developed innovative ways to make changes. For example:
· Taste tests are a popular way for students to "vote" on introducing a new food.
· School gardens are a great way for children to understand where their food comes from and to be more likely to try new foods.
· Many schools feature locally grown fruits and vegetables, along with visits by the farmers who grew them, as part their overall educational programming.
Resources
The School Day Just Got Healthier Toolkit has brochures, fact sheets, FAQs, fliers, school lessons, templates and much more to help everyone understand the changes to school meals this school year. There are kits for school administrators and employees, parents, students, and interested community members. You can find this information at:
http://www.fns.usda.gov/cnd/healthierschoolday/toolkit.htm
Get Involved!
Be a champion of healthy and nutritious school meals. Help students make the right choice, the healthy choice, when it comes to choosing what to eat.
Although you may not be directly involved with the child nutrition programs, please let your partners and followers know you support healthier meals for kids. Also, please let us know if you are willing to help get the word out by doing any of the following:
Re-Tweet

@USDANutrition

Tweets related to school meals

Look for related updates on

USDA's Facebook page

& share

Include links to blogs and stories on the new school meals in your communications, newsletters and/or website

Use the campaign badge (a sharable logo of support). You can find badges

here

.
Learn more about the changes, take action within your schools and community, and get involved with this exciting time in school meals!
Share Your Stories and Ideas
You can contact us here in the Mid-Atlantic Regional Office at marobacktoschool@fns.usda.gov to share your thoughts and join our efforts to improve children's health.